Understanding the phases of construction can make the whole experience easier.
Engineering / Permits
After you and your builder decide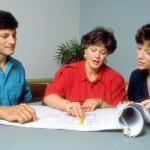 on the design you want, engineered plans are finalized and permits are pulled by the contractor.
Excavation and Shell
The crew places stakes on your property following the layout of the pool with extra room for the concrete and steel. Heavy equipment is brought in to dig and remove dirt. Steel reinforcing bars are installed. An inspection is required during this phase. A concrete crew will form the shell. Building inspectors and weather can cause unexpected delays which may affect time frames.
Tile / Plumbing
Plumbing lines are installed below the surface and equipment will be installed. An inspection may be required in your area. Tile is installed.
Decking / Grading
The ground is graded for the deck and the deck is formed and installed.
Equipment / Electric
A licensed electrician will perform the necessary electrical work. Installation of equipment is done.
Fence or Screen
Pools must be enclosed by a screen, a fence or a wall.
Child Safety
The Barrier Law requires door and window alarms, an approved safety pool cover, self-closing, self-latching doors, or a safety fence be installed.
Final Cleanup / Grading
The crew will remove any construction materials and level the ground around the pool.
Interior Finish
The interior finish you have selected is done and the pool will be filled with water.
Balancing / Start-up
Instruction will be given on how to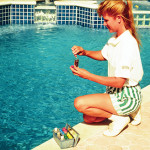 properly maintain your new pool and how to add chemicals, etc.
---
You can also download our Buyers Guide by clicking on the image below.