Recreational Water Illness (RWI) is an illness caused by germs and chemicals which can be found in water we swim in.
RWI's can be a wide variety of infections – skin, ear, respiratory, eye, gastro.
A great way to prevent RWI's is to keep pool water out of your mouth while you are swimming.
Prevent contamination of water by being proactive.  Don't swim or play in a splash park if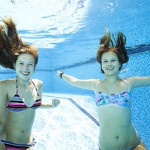 you have diarrhea .  Diarrhea can contaminate a pool requiring it to be closed while the potential germs are dealt with.  Showering before entering a pool is also recommended.
Visit the CDC website for more information.